---
Artistes méconnus, disques malaimés : le Tri Sélectif recycle les idées conçues et déterre des trésors oubliés !
Chaque année, la presse musicale nous déverse son flot de classements en tout genre : « Les 100 meilleurs albums de tous les temps », « Les 500 chansons à écouter avant de mourir », « Le top 60 définitif des années 60 » !
Vous êtes jeunes, naïfs, influençables et au moment de commencer votre collection de disque, c'est vers ces éternels chef d'œuvre que votre attention se tourne. Ces « Sgt Peppers » et ces « Pet Sounds et ces « Ok Computer » !
Mais qu'en est-il de tous ces albums médiocres, bâclés et dispensables qui se retrouvent perdus au milieu de discographies ? Qui osera les sortir du bac à solde pour leur offrir une deuxième chance ?
---
#137 2001 Revisited
12-09-2021
Pour démarrer la 5ème saison du Tri Sélectif, on retourne 20 ans en arrière à la recherche des trésors oubliés de l'année 2001 !
Une année que l'on retient évidemment pour un certain jour de septembre mais, en dehors des grands classiques sortis en 2001 (Radiohead, Gorillaz, Daft Punk, les Strokes, les White Stripes et Alicia Keys), on écoutait quoi il y a 20 ans ? Voilà une sélection de pépites à redécouvrir pour ne pas se souvenir que du pire...
Bob Dylan - Summer Days / Album : "Love & Theft" [2001]
Stephen Malkmus - Discretion Grove / Album : Stephen Malkmus [2001]
Silver Jews
- Let's Not and Say We Did / Album : Bright Flight [2001]
Built to Spill - Happiness / Album : Ancient Melodies of the Future [2001]
Mercury Rev - You're My Queen / Album : All Is Dream [2001]
Stereolab - Hallucinex / Album : Sound-Dust [2001]
Camera Obscura - The Sun On His Back / Album : Biggest Bluest Hi Fi [2001]
Andrew Bird - Way Out West / Album : The Swimming Hour [2001]
Cake - Shadow Stabbing / Album : Comfort Eagle [2001]
R.E.M. - Imitation of Life / Album : Reveal [2001]
The Pernice Brothers - Let That Show / Album : The World Won't End [2001]
Superchunk - Rainy Days / Album : Here's to Shutting Up [2001]
Paul McCartney - Back in the Sunshine Again / Album : Driving Rain [2001]
Life Without Buildings - Sorrow / Album : Any Other City (2001)
---
#136 Country Alternative
20-06-2021
Redécouvrons les trésors oubliés de la scène alt-country !
Il y a eu le country-rock, l'outlaw country, le cowpunk et puis finalement, à la fin des années 80, une version alternative de ce genre mal-aimé par chez nous et qu'il me fallait réhabiliter. Après avoir revisité les discographies des Byrds, de Green On Red et de Lucinda Williams, voilà donc une petite histoire de l'alt-country à travers ses groupes emblématiques et d'autres plus oubliés, en attendant une double émission consacrée à Wilco la rentrée prochaine... D'ici là, on vous souhaite un bel été plein de découvertes !
Lone Justice - After the Flood / Album : Lone Justice [1985]
The Jayhawks - Dead End Angel / Album : Blue Earth [1989]
The Cowboy Junkies
- Sun Comes Up, It's Tuesday Morning / Album : The Caution Horses [1990]
Uncle Tupelo - Wait Up / Album : March 16-20, 1992 [1992]
Uncle Tupelo - Steal the Crumbs / Album : Anodyne [1993]
Son Volt - Route / Album : Trace [1995]
The Bottle Rockets - Gravity Fails / Album : The Brooklyn Side [1994]
Freakwater - Waitress Song / Album : Old Paint [1995]
Steve Earle - Hometown Blues / Album : Train a Comin' [1995]
Gillian Welch - Pass You By / Album : Revival [1996]
Patty Griffin - Let Him Fly / Album : Living with Ghosts [1996]
Robbie Fulks - I'd Be Lonesome / Album : Country Love Songs [1996]
Old 97's - Timebomb / Album : Too Far to Care [1997]
Drive-By Truckers - Nine Bullets / Album : Pizza Deliverance [1999]
16 Horsepower - Alone and Forsaken / Album : Folklore [2002]
---
#135 Le Spleen Selon Simon Joyner
06-06-2021
Découvrons la discographie de Simon Joyner, songwriter trop méconnu...
Qui a débuté dans un magasin de tapis en pleine période grunge et est peu à peu devenu une figure de parrain pour la scène d'Omaha et les artistes du label Saddle Creek, également cité par Beck et Kevin Morby comme une influence majeure. Depuis une trentaine d'années, ce disciple de Townes Van Zandt et Leonard Cohen nous fait ses confessions de dépressif à sa façon, avec ce qu'il faut de bons mots et d'énergie du désespoir pour être attachant. Pour en savoir plus sur sa discographie, rendez-vous sur son Bandcamp.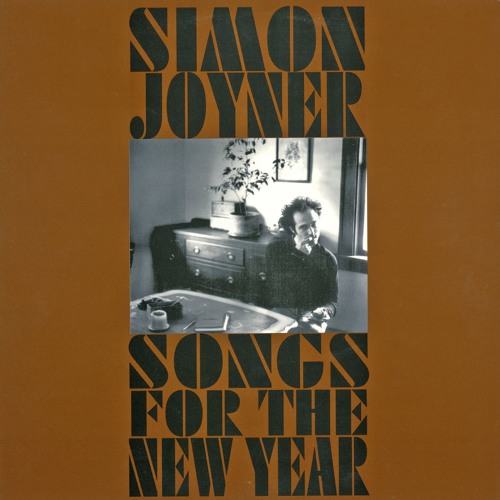 Simon Joyner - The Shortest Distance Between Two Points is a Straight Line / Album : Room Temperature [1993]
Simon Joyner - Joy Division / Album : The Cowardly Traveller Pays His Toll [1994]
Simon Joyner
- Catherine / Album : Heaven's Gate [1995]
Simon Joyner - I Wrote a Song About the Ocean / Album : Songs For the New Year [1996]
Simon Joyner - Bring Down Goliath / Album : Yesterday, Tomorrow and in Between [1998]
Simon Joyner - I Will Find You / Album : The Lousy Dance [1999]
Simon Joyner - My Life is Sweet / Album : Hotel Lives [2001]
Simon Joyner - Happy Woman / Album : Lost With the Lights On [2004]
Simon Joyner - Answer Night / Album : Skeleton Blues [2006]
Simon Joyner - You Got Under My Skin / Album : Grass, Branch & Bone [2015]
Simon Joyner - I'm Feeling It Today / Album : Step Into the Earthquake [2017]
Simon Joyner - Morning Sun, Slow Down / Album : Pocket Moon [2019]
---
#134 1981 Revisited
30-05-2021
On retourne 40 ans en arrière à la recherche des trésors oubliés de 1981 !
Une entrée timide mais sans retour dans le meilleur et le pire du son et de la prod eighties où l'on navigue entre new-wave et hard rock avec des classiques comme le Gun Club, Brian Eno, Grace Jones, Genesis, Echo & the Bunnymen et ZZ Top... Nous, comme d'habitude, on va creuser un peu plus loin avec une sélection d'albums un peu plus obscures et quelques sensations australiennes...
The Kinks - Around the Dial / Album : Give the People What They Want [1981]
The Replacements - Take a Ride / Album : Sorry Ma, Forgot to Take Out the Trash [1981]
Ramones
- Don't Go / Album : Pleasant Dreams [1981]
Public Image Limited - Go Back / Album : The Flowers of Romance [1981]
The Fall - Fit and Working Again / EP : Slates [1981]
Suburban Lawns - Green Eyes / Album : Suburban Lawns [1981]
Sunnyboys - Alone With You / Album : Sunnyboys [1981]
Lizzy Mercier Descloux - Room Mate / Album : Mambo Nassau [1981]
Tom Tom Club - Under the Boardwalk / Album : Tom Tom Club [1981]
The Church - In a Heartbeat / Album : Of Skins and Heart [1981]
The Clean - Anything Could Happen / EP : Boodle Boodle Boodle [1981]
Tom Petty & the Heartbreakers - A Thing About You / Album : Hard Promises [1981]
Elvis Costello - Tonight the Bottle Let Me Down / Album : Almost Blue [1981]
Merle Haggard - Stop the World and Let Me Off / Album : Big City [1981]
---
#133 Dylan Revisited [1990-2020]
23-05-2021
Pour célébrer ses 80 ans, on revisite le catalogue de raretés de Bob Dylan !
Suite et conclusion (pour l'instant) d'une émission en trois parties qui n'est pas une mince affaire tant je suis un fan fou furieux du monsieur et que sa collection d'inédits/raretés/prises alternatives est si vaste qu'il faudrait 100 émissions pour en faire le tour. À défaut, voilà une sélection chronologique subjective et non exhaustive qui sort un peu des sentiers rebattus et a pour humble ambition de vous permettre de (re)découvrir la carrière du Prix Nobel sous un angle différent.
Bob Dylan - Born in Time (Demo, 1989) / Compil : The Bootleg Series Vol.8 [2008]
Bob Dylan - Miss the Mississippi (1992) / Compil : The Bootleg Series Vol.8 [2008]
Bob Dylan
- Tight Connection to My Heart / Live at the Supper Club [1993]
Bob Dylan - Dreamin' of You (Outtake, 1997) / Compil : The Bootleg Series Vol.8 [2008]
Bob Dylan - High Water (For Charley Patton) / Live in Niagara Falls [2003]
Bob Dylan - Tell Ol' Bill (Alternate Take) [2005]
Bob Dylan - Ain't Talkin' (Alternate Take, 2006) / Compil : The Bootleg Series Vol.8 [2008]
Bob Dylan - Do Re Mi / Compil : The People Speak [2009]
Bob Dylan - The Love That Faded / Compil: The Lost Notebooks of Hank Williams [2011]
Bob Dylan - Things We Said Today / Compil : The Art of McCartney [2014]
Bob Dylan - He's Funny That Way / Compil : Universal Love [2018]
Bob Dylan - Girl From the North Country (Live in Sydney, 1986)
Bob Dylan - Key West (Philosopher Pirate) / Album : Rough and Rowdy Ways [2020]
---